That Can't Be Real, Can It?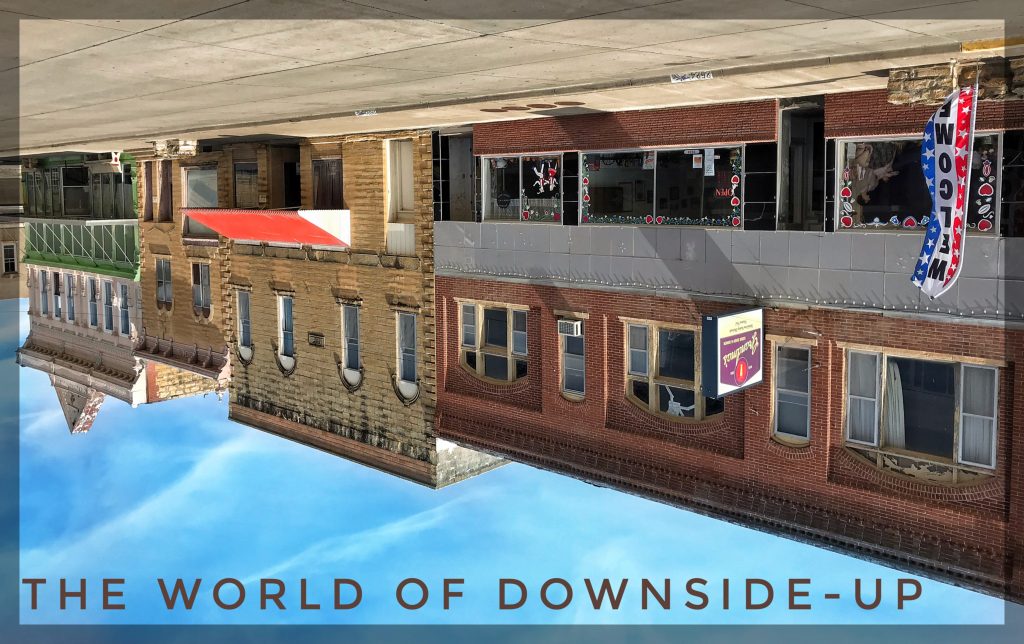 As you probably know, Sandy and I are full-time travelers. Since our launch in July 2018 we've travelled 8,200 miles and stayed in 21 states in 42 different campgrounds. There are many aspects of the traveling life that I love, but none more than the opportunity to frequently see and experience new people and things.
But I have to tell you, in my search for 'new' I have never walked over a hill and discovered a world that is completely upside down, have you? Maybe in a cartoon or on a TV show, or when I stood on my head when I was a kid, but never in the real world. That's just not normal. It can't be real.
In the world in which we currently live certain values, types of people and situations are most highly valued. Beauty, money, fame, being admired, have always been sought after. Power, respect, toughness, having the coolest car. To be sure courage, kindness and self-sacrifice are occasionally also lifted up.
But being a servant? Jesus said, " … whoever wants to become great among you must be your servant, and whoever wants to be first must be your slave— just as the Son of Man did not come to be served, but to serve, and to give his life as a ransom for many." (Matthew 20:25-28)
Two weeks ago we considered the idea of serving others as a way to bring a refreshing sense of adventure, a renewed purpose back into our lives and for those we love. Last week we wrote that a good way to begin the adventure of service is to expose ourselves to new ideas and experiences. Next week I think we'll spend some time considering where to find the people and new experiences most likely to lead us to a life of service.
This week I want us to think about the value of serving others. Jesus said that if we want to be among those who are adding the most value, we should consider ourselves to be a servant of those around us. And if we want to be the very best person we can possibly be, we must give our lives over completely to the needs of others, we must view ourselves as their slaves. In God's economy there is no higher position, no more valued activity than serving each other with the gifts we've been given.
We live in a world that has been flipped downside up from the original. Everything around us says that those who have the most servants are more important. But Jesus says that those who serve the most are the most highly regarded in his kingdom.
Another benefit of service is that God has included it in his principles of human interactions. Just as he created the laws of physics that we all recognize and take advantage of every day, so he also created a set of principles that govern how we as humans interact with each other. One of those is the principle of reciprocity, which says we will receive in roughly the same measure as we give. Jesus said, "Give, and you will receive. Your gift will return to you in full—pressed down, shaken together to make room for more, running over, and poured into your lap. The amount you give will determine the amount you get back." (Luke 6:38) My friend Al Turnbeaugh calls it GivEconomics. Do a search on Facebook for that term, I think you'll be fascinated by what you find.
So why should we consider choosing the path toward the adventure of service more often? Because being a servant is the most highly valued position in the Kingdom of God. And because He has designed life so that the more we give, the more we receive – GivEconomics.
As believers we live in two worlds. Our feet are stuck in the media-dominated muck that preaches power, beauty, revenge, and independence; while our hearts understand the eternal significance of love, grace, forgiveness and service to each other.
Isn't it crazy that everything you see around you is actually upside down from reality? When we see things aright, we begin to recognize the foolishness of all the self-promotion that is all around us. So I ask you today, what if this is a correct view of life? What if it's real, my friend? What then?
.