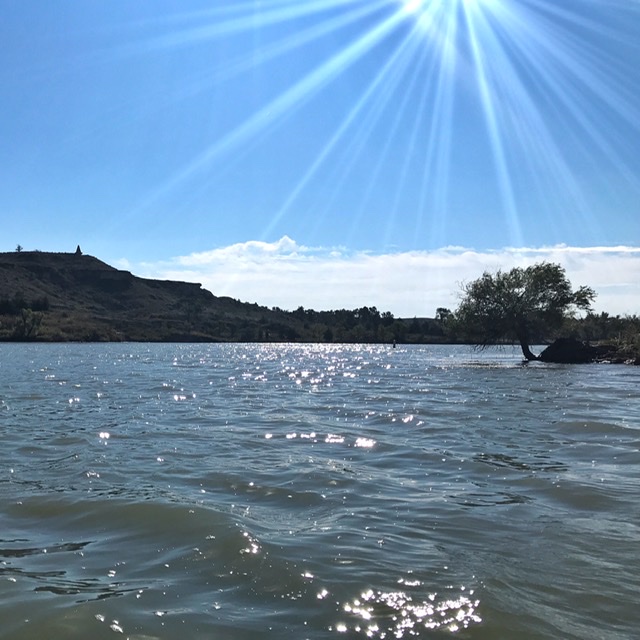 Every now and again in our RV travels we are surprised to find something completely unexpected. As we crossed Kansas during our first few months of living the full-time-traveling life we were headed for Lake Scott State Park. In the pictures there was a beautiful lake pushed up against low-lying cliffs, surrounded by trees and plentiful green grass. I was kind of excited about it.
But as we moved south from I-70 along a two-lane road we saw only horizon – no trees, not much green and certainly no cliffs. I was questioning my research. And then as we turned and began the gentle descent into the park the lake opened up before us. Sure enough – the pictures were right. Hidden there in the flatlands of western Kansas was a small oasis of beauty that would be our home for the next week.
The lovingkindness of our God often feels like that to me. Surprising. Unexpected. Certainly undeserved. I was recently reading Psalm 36 and ran across a note I had written in the fall of 2016. I was still working then and it was a gray time for me. Not horrible mind you, but difficult, stressful. I'd like to share it with you:
---
Psalms 36:1, "Transgression speaks to the ungodly within his heart; there is no fear of God before his eyes."
Apparently the Hebrew here can (or should?) be translated as 'my heart', rather than 'his heart', which then puts a very interesting twist on what David may be saying here in this poem. [I encourage you to read this short Psalm of only 12 verses with that possibility in mind.]. God's servant David may be saying, "Transgression speaks to the ungodliness within me" or "Transgression speaks to the ungodly part of me."
Lately I have been thinking a lot about that, the apparent split personality I see in my heart. On the one hand I feel a deep drawing to Jesus and a profound desire to please him. On the other, I see a wicked rebel with continual criticism of others and unwarranted vaunting of myself. It has really gotten me down lately.
Now, I understand the principle that we tend to see evidence (or support) around us for that which we are thinking about (buy a red car, then begin to see a lot of red cars around you). So perhaps that explains why I see everywhere evidence (as in here in Psalm 36) of the never ending internal battle that seems to be raging within me. Maybe. But the truth of that principle does not automatically discount the reality of what I feel in my heart and see in scripture – right?
In Romans 7:14-25 Paul discusses the conflict of two natures:
For we know that the Law is spiritual, but I am of flesh, sold into bondage to sin. For what I am doing, I do not understand; for I am not practicing what I would like to do, but I am doing the very thing I hate. But if I do the very thing I do not want to do, I agree with the Law, confessing that the Law is good. So now, no longer am I the one doing it, but sin which dwells in me. For I know that nothing good dwells in me, that is, in my flesh; for the willing is present in me, but the doing of the good is not. For the good that I want, I do not do, but I practice the very evil that I do not want. But if I am doing the very thing I do not want, I am no longer the one doing it, but sin which dwells in me.

I find then the principle that evil is present in me, the one who wants to do good. For I joyfully concur with the law of God in the inner man, but I see a different law in the members of my body, waging war against the law of my mind and making me a prisoner of the law of sin which is in my members. Wretched man that I am! Who will set me free from the body of this death? Thanks be to God through Jesus Christ our Lord! So then, on the one hand I myself with my mind am serving the law of God, but on the other, with my flesh the law of sin.
I hate it, but that 'split personality' seems to be real in me and apparently in Paul and perhaps David as well. And at this point in my life, it seems to me personally, that this is a profound test of my faith. Will I trust that God has chosen and saved me, that he loves me dearly and passionately desires to be with me, and delights in sharing his great mission and intimate friendship with me? Can I trust the Bible along with the deepest witness of my soul that all that is true, despite the wicked and prideful 'self' that taunts me day and night?
Wretched man that I am! Who will set me free from the body of this death? Thanks be to God through Jesus Christ our Lord!
---
Does this make any sense to you today? Have you known the tug of war, the genuine desire to obey followed by the reality of doing what you don't want? Deep disappointment. Wondering if you'll ever be able to joyfully spend time with your Lord again. Look again, believer. I think you'll see unexpected grace just around the next corner.
Surprising and unexpected! Much more so than an oasis hidden in the flatlands of Kansas. The reality of God's undeserved favor, despite the obvious weaknesses of our flesh, is the centerpiece of the table of feasting that I call The Outrageous Life.

.