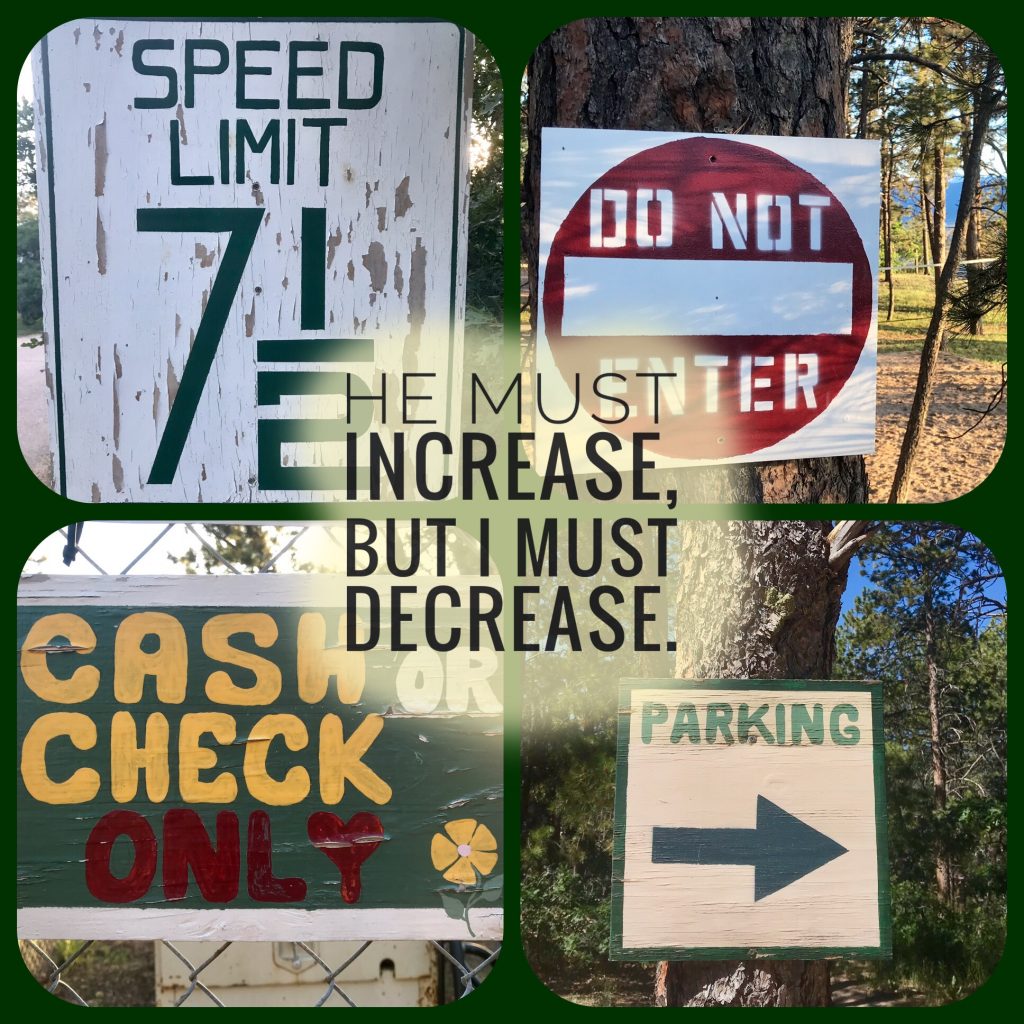 I love signs.  Tall signs, tiny signs, terrific signs and tuned-upside-down signs.  Signs of all kinds!  I love signs!  I'm fascinated when I stumble upon one attached to a weather-worn 4" splintered, wooden post in a corner of the RV campground. Aren't you?
And the colors?  All my life I've had my eye out for, and only rarely found, a sign with the perfect blue background.  You know – sky blue, COLORADO blue.  They're rare, but I've seen a few.  I also love red – but not the ever-present StopSignRed.  NO!  I'm talking here about SunsetRed!  The glorious hue that God so often splashes across the horizon at day's end.  Life-changing red signs!
I have drawn so much personal joy from the uniquely beautiful signs that have been placed for our enjoyment all across our country. I mean … that IS what they're for, right?
Many of you may be familiar with the Apostle Paul's declaration in Acts 20:24, "I consider my life worth nothing to me; mey only aim is to finish the race and complete the task the Lord Jesus has given me —the task of testifying to the good news of God's grace."
Can you think of anything more rewarding than knowing we have had some part, large or small, in pointing someone, even one, "to the good news of God's Grace", to Jesus?
Sometime later the Apostle was defending himself before a Roman court in Caesarea, the Roman capital of Judea in those days. One of the presiding officials thought Paul was trying to convert him as part of his defense. "Then Agrippa said to Paul, "Do you think that in such a short time you can persuade me to be a Christian?" Paul replied, "Short time or long—I pray to God that not only you but all who are listening to me today may become what I am, except for these chains." (Acts 26:28-29)
If you've been a believer for a while you know what Paul was thinking.  We have something so wonderful, so life-changing we want to share it.  Our lives are not perfect, our circumstances perhaps not as pleasant as that of others.  But we know the peace we have is real.  And we want to point those we love to that peace as well.  "I pray to God that not only you but all who are listening to me today may become what I am, except for [my obvious weaknesses and struggles]."
Neither broken nor beautiful signs are intended to draw attention to themselves. They are functional, they provide information and help. Some point the way.
We may be broken, but we can still point the way. We may not be as good as others, but we can be useful. Perhaps our lives haven't turned out to be what we dreamed of years ago. We've struggled, let people down. In visible and invisible ways we are a mess. But so are others. Perhaps those who are broken similar to us, will pay a bit more attention when someone like them points the way to a Helper and Friend, to Jesus. But thank goodness, it's not about us.
Or for some of us it's a bit different.  We're at the top of our game.  We stand tall and proud, we've worked hard.  And loud we proclaim the Good News.  People pay attention because we're beautiful, fast, rich or just better.  Yes, it's true, some will notice because we are bright and shiny sign. But don't forget, it's not about the sign.  
Whether broken or beautiful, let us consider our lives worth nothing, our only aim being to finish the race and be the sign the Lord Jesus has asked us to be – pointing others to the outrageous news of God's grace.