I enjoy taking and editing photographs. As I've been learning how to edit, some have said I tend to overdo it a bit. They're likely correct. But I like it bright and vibrant colors. See what you think.
THIS PAGE UNDER CONSTRUCTION!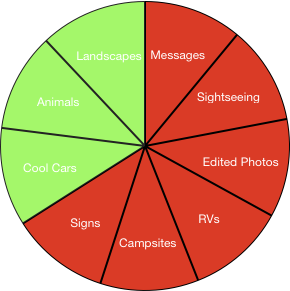 There are nine galleries, each with a different focus. Clicking on one of the pictures on this page will take you to that gallery. And then within each Gallery you will find several filters to help you explore further. I hope you enjoy as much as I have in creating this.
GALLERIES: Animals & Critters, Landscapes, Sightseeing, Cool Cars, Campers & RVs, Campsites, Signs, Messages, Edited Before&After